Artastic
I did a lot of
arty type
stuff last week. One of the best things about London is there's always something to do or see, whether you're trying to kill a few hours or have a whole day to spend.
Last week, I met up with some
New Statesman
people after work. Of course, I get off at three, and the rest of this city finishes work at 6 or later, so I had a few spare hours. I wandered thru Holborn and down Charing Cross Road to Trafalgar Square, where there's a new statue on the empty plinth: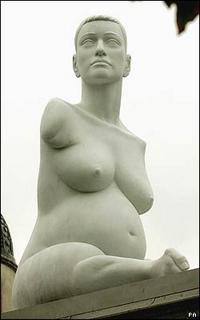 This is interesting for many reasons. Basically, the square is full of military statues, the centerpiece being Nelson's (
no, not napoleon's
) column. But there is, for reasons unknown to me, an empty spot, a plinth with no statue on it. So someone, rather cleverly, suggested artwork be displayed there on a
rotating basis
.
There isn't much
controversy surrounding this particular statue
, because most people just don't care. But some people have apparently claimed that a) it's ugly and not very well done; b) it's trying too hard to be shocking (this because it's a potrait of armless and legless disabled pregnant woman); and c) that it doesn't deserve the company it keeps, as in, what has this woman done that puts her on par with the likes of Nelson and the other military commanders from wars in India and Africa and wherever else? (Aside from, or course,
not
being responsible for the imperialist subjucation of millions of people in colonies around the world? Actually, the subject is an artist herself and given she's armless and legless and has a now-five-year-old son, I'd say she's achieved a rather lot. She's no Nelson, but she's more interesting than the other lot.)
Either way, I think it's pretty, and I like how it stands out. It's rather striking to see this modernish sculpture in white stone of a naked pregnant woman surrounded by copper/bronze men in uniforms.
After that, I wandered thru the
National Potrait Gallery
to visit the
one known image
of
Jane Austen
:
After saying hi to her, I wandered a bit thru the rest of the portraits, but gotta say, it was a bit of a let down. There are some really cool pictures and sculptures--
including a weird layered one of JK Rowling
--but it was a wee bit boring. At least it was free.
A few days later, I went back to Trafalgar Square and went to the
National Gallery
. For the first time I can remember here, I paid to get into an exhibit. The permanent galleries are free, but this was a special one, featuring work by
George Stubbs
, who specialized in painting race horses and racetrack scenes.
There were six rooms of his work, starting with the anatomical drawings he did of the animals, based on layer-by-layer dissections (um, gross):
Many of the paintings are really amazing likenesses of what horses actually look like, tho I have to say, he gets their necks wrong a lot, making them arch in a certain way that's slightly unnatural looking to me. He got another thing wrong, tho it's hardly his fault. He painted galloping horses running with all legs sticking out, off the ground:


Thanks to photography, we're now aware that horses do not run like that. Of course, there's virtually no way he could have figured that out by dissection or even careful study, as they just move too fast. So it's no fault of his, but it does give a few of the paintings a rather archaic, tho charming, feel.

After that, I met up with Kate and went to an art installation/performance done by her friend, Doug Fishbone. It's not that I don't get modern art--well, some of it I really don't understand--and I think Doug has probably done some really good work (some cool stuff involving bananas in Trafalgar Square and a head carved out of kebab meat), but this was a wee bit silly. It was basically him sitting with a powerpoint slideshow of googled images, talking randomly. It was pretty funny how he'd just slip into a joke, but I'm not sure what the point was. I mean, he'd talk about politics and society, but said nothing new or groundbreaking. And the idea of mixing humour with it is very not new. I'd rather watch John Stewart any day... not that I get him out here...

. . .

In other news, my younger sister Michelle sent me out a massive box of goodies, just out of the blue. I'd had a homesick and depressey weekend, so getting this out of the blue was very very helpful. She sent me makeup, KD, candy, a crazy looking stuff horse, clothes and lord knows what else. It was a very full box. Very much like Christmas... no, it was like Christmas, if Christmas morning was a surprise. No build up, just bam! Here's a pile o' presents!
And in other good news, I (finally!) got paid!