London wrapup
My parents and Michelle spent Friday morning being pious in
St Pauls
, before meeting up with me post-work on the steps of that fine church. We then went to a less sacred place in London:
Camden Market.
I bought a new green and black hoodie (which makes me look massive, but is comfy) and Michelle bought a skirt. My dad just commented on all the crazies about.
We then met up with Dan in
Islington.
I was exhausted; Dan looked like he was ready to drop, too, but from work, not being touristy.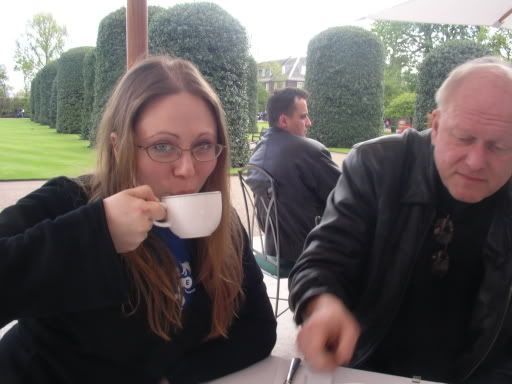 Saturday we fought our way thru the crowds of
Portobello Road Market
, in Notting Hillish area, before going for
tea at the Orangery
in Kensignton Park Gardens. After napping in the grass in the Park, we shopped down Kensington high street, before ditching my parents and having some good sisterly bonding over dinner (read: sisterly gossip and bitch-fest, ahh, good times).
And then, back to the flat, to pack before flying German Wings airline to
Cologne
... which is where I now am, using the cheap-ish innernet at a Starrenbucken, as I've taken to calling them.
Off thru Germany tomorrow, and then onto Paris...