Geneva, Geneva
Right. I've been writing this in little bits, because
Blogger has sucked lately
, and because I've been lazy. So it might be a wee bit on the rambly nonsensical side...
Anyways.... Okay, so
I went to Geneva
eons ago -- uh, last weekend -- to visit
Kris
. After arriving on Friday -- and waiting in line at passport control behind three Brits who were debating whether the UK is or is not part of the EU -- Kris and I took the bus (expensive, but efficient) to the dorm room he's staying in while interning/fellowshipping at the UN. The view from his 12th floor flat is ridiculous; you can see the mountains
and
the lake:

Geneva is set in a mountain valley along part of a very large lake, the sea-like Lac Leman. It's most famous landmark is a massive fountain, the jet d'eau. But because it was freakishly windy (or something) the fountain wasn't on the first day. Nor the second. In fact, the entire time I was there, it was on for about an hour:



After wandering along the waterfront, admiring the many flags and private banks and watch companies, we headed to a restaurant/bar and ordered some "traditional" Swiss meal involving potatoes. Weirdly, during dinner, a friend of Kris' walked by. So we joined her table, and were swiftly joined by a half-dozen other friends.

One fun thing about Geneva is that it's not really Swiss. It's not really "international", either. It's more "NGO". Every conversation started with the question: "Where are you from?" -- because no one is from Geneva, or even Switzerland, here. They are from Ghana or Colombia or Canada or where ever else. (I spoke to one Swiss person the entire weekend; he was a waiter.)

The next question is invariably: "What are you doing here?" The answer to which usually involves an acronym with the letters "UN", or -- in small cases -- the Red Cross or some other NGO.

Another fun thing about Geneva is their answer to beer pitchers: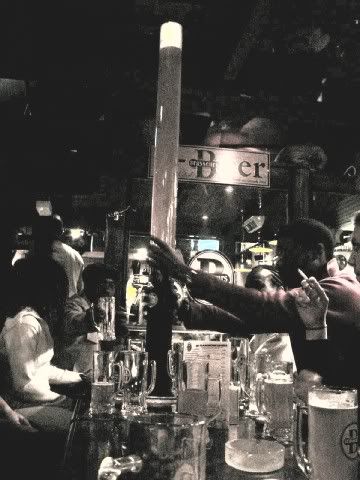 Yes folks, that holds 3L of sweet, precious beer. The mind boggles.

The next day we walked around the city, did some grocery shopping, checked out the Old Town and sat in a park.
European cities -- based on my limited knowledge -- seem to all have Old Towns, and they are all usually about the same: tiny, narrow cobbled streets -- lined with antique shops and galleries and cafes -- leading up a hill to a massive cathedral. While they are lovely, it's a bit repetitive. I mean, really, Europe is old. I get it. This must be why Paris' La Defense and even London's Canary Wharf are so well-loved. They're different.



But one thing I'll never tire of is the urban parks that Europe -- again with the "in my limited experience" bit -- does so incredibly well. The park we hung out in was fabulous. We walked in past old men playing chess with massive toy-like sets -- the pawns were a foot high! -- while people looked on, fascinated to watch.

After buying ice cream and drinks, we sprawled in the grass near an old mansion -- currently used for after parties and similar -- in sight of the carved stone of the Reformation Wall, while kids played football and some random guy practiced his numchuck skills. Europeans know (knew?) how to create useful, beautiful public space.


After parking around, Kris made dinner. Was it stuffed peppers? You know it was. There was also a ridiculously lame joke involving me being gifted a rooster decoration from Kris' Colombian friend, Andreas. If you know what Latin American guys are like, and if you know a synonym for "rooster," you can probably figure out the basis of the joke.
The next day, we hit up the very well-done Red Cross Museum, which managed to be interactive in the way most modern museums try to be, but fail. But, as is true of its many endevours, the Red Cross does not often fail.
Then, using his security pass, Kris got me into the UN. Did I have a shit eating grin on my face upon seeing the main hall? You bet I did:


So awesome. Like when South got us into Parliament after hours, except this time, we had to dodge security guards.
That night, we went to go see Mission: Impossible: 3 -- the silliest punctuated movie, ever -- because the baddie is an arms dealer, and Kris is with UNIDIR, who track such things. So Kris, myself, a fellow intern, and their boss -- the hilarious Valerie -- went to go see the film. Did it suck? Yes. Of course it did. Was it cool seeing it with people who actually knew arms dealers? Hell yes.
(And, to steal Will's film review shorthand: Lessons learned from M:i:3... True love cures headaches.)
The next -- and final day -- in Geneva, we went to Evian. Which deserves a post of its own... later.
Pictures are here.





Labels: European travel, friends, photos